This week, I'm linking up with
Shell at Things I Can't Say
.
This is my very first time linking up with
POUR YOUR HEART OUT
..
I decided to join this week as I feel pretty strongly about this subject. Although I'm not pouring my heart out nearly as much as I would like to,or as much as some others, I think that I'll feel the waters out first!!
If this goes okay, next week, I'll REALLY pour my heart out! Deal??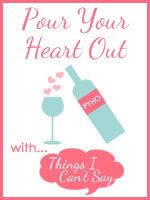 Okay! So, I could go on and on and on about how I don't agree with parents who "hover" over their children.
I won't though!
It's way too touchy of a subject.
My feeling though, is that kids have to make mistakes. Kids have to fall. Kids have to experience bumps and bruises. This is how they learn, this is how they grow.
Like I said though, I won't get into it too much.
My hubby is the opposite. He's like helicopter dad. He hovers. If he is around the kids, I swear he doesn't breathe. He's so on edge. If it were up to him, they would never climb, they would never play on a hard surface, they would never swim and well, they should probably just wear bubble wrap.
I can't help but laugh at him.
Sometimes I get mad though. I get defensive. He's so on edge when he's around, it sometimes makes me feel like he's saying that i don't watch them enough, that I'm not being cautious.
For Example:
Tonight, when I told him that we would be spending tomorrow afternoon around a pool, his response was
"Well be careful!"..
(very firmly)
My response? "What do you mean? Are you worried about Sun Stroke?"
"No, I mean, be careful with the girls around the water and in the pool!"
Really??!!
I wanted to say "Nah, I think I'll just throw them in the deep end without life jackets and go have a beer, see how well they make out!"
Idiot!
Instead, my response was "What a stupid thing to say to me!" lol... not much better?!!
Subject was dropped..
I have always tried to explain to him that there is no way we can always protect the girls. Accidents are going to happen. Falls are going to happen. Cuts and scrapes are going to happen. Blood is going to happen.
Obviously, we're going to do our best to keep them safe and avoid something serious, but my gosh, we have to let them live! It's how they learn! There are going to be times that we're not there, that we're not looking, or that we have to turn our heads for 5 seconds.
I think he may have finally "got it" this weekend.
I went to get my haircut on Saturday morning.
The second I got home, I could see the stress on his face. Lylah was screaming and he looked like he wasn't far from tears himself.
I'm so getting him this shirt for his Birthday!!
I ran in and asked what had happened?
She was stung by a bee. Her poor little finger was swollen, red and very sore.
After being stung, she came inside to get a cracker. While reaching for the box, the whole shelf fell off and everything tumbled to the floor. She wasn't hurt, but she was very frightened by it.
This is when I walked in.
All of the pointless worrying that daddy does,, and the two things that could have potentially been really bad, he had no way of avoiding.
Why??
Because accidents happen!!
Those 2 things that happened were 2 things that he wasn't worrying about at all..
So there you have it! My point!! We can waste all of our time running behind our children, making sure they don't get hurt, making sure they are safe and that no harm ever comes to them, but we can never fully protect them.
When we're busy worrying about the chair they are climbing, a bee can come and sting them.
It happens!!!
Are you a Hovering type of parent, or a more relaxed "wait for it" type of Mom???!
Also take a look at this great article on
"Bubble Wrapping our Kids"