Can you believe that Summer is almost over??
In some ways it feels like it has just begun. Other days though,I think of how much we've done and how much fun we've had and can't believe it's only August..
I was looking through all of my pictures the other day, and can't help but smile at how much the girls have grown (in every way) and learned this summer.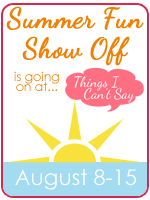 I've grabbed some of my favourite pictures to show you all, it was hard to pick, but these are of some of my favorite days this summer.
There are many photos that I would like to share with all of you, but I decided to stick to "family" pictures...lol
Let's just say though that the majority of my Summer fun (not more fun, just different!)happened during the evening!!
Enjoy the rest of your summer everyone! We still have a few weeks to make memories!!
Don't forget to play safe!!
Fellow Bloggers, be sure to link up your Summer Fun with Shell to win great prizes from
Ubisoft
Daddy and his girls after a fun day in the sun.
Trying to get Lylah more comfortable in the water..
Gracie catching some sun..
Silly girls..
Dreaming of one day when we have a real pool!!
First time old enough to know we're on a real boat!! She loved it!
Completely loving water now! A day at the beach!
Lylah and daddy considering diving in!
XO