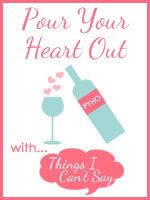 My biggest fear in life, is not seeing my children grow up.
The fear that something will happen to me, and that they would ever have to live without me, keeps me awake at night.
It's a fear for myself, but more a fear for them.
I want to be here with them. I never want to miss a second of their lives. My heart hurts thinking of a day that I might be taken from them.
What hurts more, is the thought of them ever having to grow up without me. Without their mommy.
It kills me to think there could ever be a time that they wouldn't have my safe hands and my tight hugs, that they wouldn't have their Mommy to run to when they're hurt or broken hearted. They wouldn't have me to kiss their boo boos better.
To not have their mommy tell them that she loves them to the moon and back every night. No mommy to read bedtime stories or tickle their toes.
Those are the thoughts that really haunt me. The thoughts that keep me awake at night.
No Mommy?! How does one live with no Mommy??! I still need my mommy!
Millions of people live their life without their mommy, and they manage. I don't know how they do, but they do.
I know one special person who has lived her whole life without her Mommy, and it breaks my heart every single time that I think about it.
I think about this person and the life they've lived, a lot more since having my girls.
My Mom lost her mother when she was only 6 months old.
A baby. A dependent little baby, lost her mommy.
At 6 months old, she never would have been able to make sense of where her mommy went.
My mom never got to know her mom.
(She also lost her dad at the age of 11)
How do you even begin to make sense of that?
I'm sure she got to feel her warmth, her love, her kisses. I don't doubt that for a second.
I'm guessing that those first 6 months of her life consisted of a whole lot of hugs and kisses.
What I doubt though, is that she
remembers
what those things feel like.
She'll never know the feeling of her mother's arms around her.
She'll never get to know if she has her mother's hands, if her laugh sounds like her moms did.
She'll never know if she dislikes the same foods as her mom or if she shares the opinions, the same hopes and dreams.
She'll never know what made her mother laugh, what made her cry...
My mom grew up without a mother, she did the unimaginable. The thing that I cannot even bare to think about.
She started school without her mother's encouragement, without her mommies hand to hold as she walked in for the first time. She got married without seeing her mother's tears. She went through pregnancy and had children not having her mom to guide her, to help her. She couldn't compare her pregnancies to her mother's, she couldn't ask her mom for advice.
If you've never had a mom, how do you learn to be one? Who teaches you all of the things that "we" learned from our own childhoods, from watching our own mothers?
My own mother has lived the very life that I dread my girls ever having to live.
She lived this life, and she did a really great job living it. She amazes me.
She turned out to be one of the most selfless, nurturing, warm, and loving women around. She is an amazing mother and grandmother.
I often wonder how she turned out the way that she did.
Sure, she has her days. Who wouldn't?
What amazes me though, is that she has never taken on the "victim" role as so many would.
My heart breaks when I think of my mom as a baby, crying for her mother's touch. Crying for her mommy who was no longer there.
It breaks equally as much when I think of my poor grandmother who unfortunately knew that she would be leaving her beautiful baby girl.
(as well as 4 other children)
I often wonder what her thoughts were? Did she allow herself to think about it?
When both of my girls were 6 months old, these thoughts haunted me. I spent day after day trying to imagine what my grandmother went through. Wondering how I could ever look at my girls knowing that I wouldn't live long enough to see them walk, or talk.
And then I would look at my little helpless girls and wonder how they would ever survive without me.
I just cannot imagine final days knowing that goodbye was near.
No mother, no child should ever be put through that.
My mom says that she grew up always feeling that he mother was with her. She knew that she was always close to her and always in her heart.
I am sharing this with you today as I promised I would in my post
ANGELS AMONG US
. I am so thankful that my daughter was able to, in a way, confirm that my grandmother has never really left us, that she always has been with my mom, and that she's always in her heart.
I believe that my grandmother had everything to do with the amazing woman my mother turned out to be and I believe that she has been with her every single step of the way.
I also hope that she stays as long as she likes since it seems that she's now sticking pretty close to Gracie.
XO
*Thank you to Shell from
THINGS I CAN'T SAY
for giving me the chance to "pour my heart out" today.