Thank God I have a Guest Post today!
I lost my day yesterday due to a 3 year old sticking a bead in her ear... Apparently she was creating an earring when the thing magically got lodged in her little ear..
Leaving the Emergency Room 3 hours later (
bead came out with enough pain that she'll never do it again
), I decided that wine just isn't strong enough these days,, I need to turn into a Vodka mommy. The possibilities are endless with vodka... (**
calm down, I'm half joking,, you don't have to call rehab clinics....yet!
**)
Speaking of Vodka, my Guest Blogger today knows a whole lot about Vodka, and the need for it.
Sarah from BRING MOMMY THE VODKA, is awesome, and she gets "IT".. she totally gets it..
Whenever I'm having one of "those" days, I hop on over to her site and immediately feel better..
To give you a sneak peak of her personality, this is her welcome message :
"

Sit back and pour yourself a big one. I'm here to dish the dirt on Mommydom. June Cleaver was a liar and she set us all up for disappointment.

"
Make sure when you're finished reading her post below, that you hop on over and check out her site.. You won't regret it, I promise!! Just make sure you leave her a comment so she knows you were there!
Without any further delay,,, I thank Sarah from Bring Mommy the Vodka for this great post!!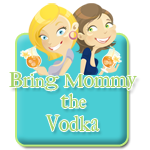 Conversations with Strangers
While sitting at the dinner table last night, there was a lull in the conversation. Then out of nowhere and breaking into the silence with a sledge hammer, my three-year-old son, Christopher, blurted out, "Hey Dadda- Momma let the mailman stay for lunch today." My husband choked on a mushroom.
Sort of. Okay, let me first start off by saying - I did not let the mailman stay for lunch. Secondly, the "mailman" is a woman. But, she did show up at meal time. And I did have a lengthy conversation with her.
As I am sure many of you know, but for those of you who do not: stay-at-home moms have no one to talk to during the day. NO ONE. It's probably why we drink. Not entirely true, but it's hard to have a conversation with a two-year-old about the stock market or the newest politician entering the race for presidency. Of course, we could have these conversations, but our angel face child will only look back at us with a blank expression and reply, "I have to big poopie."
So therefore we are forced to resort to desperate measures. We will talk to anyone that crosses our path. The mailman. UPS. Cashiers. Trash collectors. The trick is, you have to stagger them. These are all people who deal with the public every single day. They know who the stay-at-home moms are and they know we'll talk their ear off.
The other day I was at the grocery store headed to check-out and as I was about to enter the lane of my favorite cashier, he turned his light off. It was probably the first time I ever realized the true extent of my ramblings. But as I've begun to take a closer look, I've noticed the UPS man start checking in my package before he reaches my door. He then tosses it on the front porch only placing a foot on the first step. It's as though he thinks if he takes a step further then he will be sucked into a conversation with me. I've even driven my mother to insanity. While I'm sure she loves to hear updates about her two grandchildren, I'm also sure she's yawning on the other side of the line when I tell her about my hangnail that's been giving me a headache. The mailman even takes lighter steps these days as though not to let me know he's on my front porch.
So what do we do? How do we solve this problem? We blog. We drink. Well, mostly I drink, but I blog too. I think it's the reason there are so many "Mom Blogs." We need to have our voices heard. Most of us are no longer in an office or in a field where we have friends to ramble to. We type our daily or weekly thoughts online in hopes that one person will listen, will laugh, will comment.
What's amazing is that the readers of these our blogs are other mothers. I think we subconsciously know that other moms need a little gratification. We are here to pour our hearts out and we are here to collect the thoughts of others. It's an amazing world, this blogosphere, and it has come full circle.
Thanks for stopping by and taking the time to read this post. It's nice to talk to someone that isn't going to reply with, "Stop Momma. I think I just ate a boogie. I think a big one." And I hope that after you write your own post today you find time to listen and comment to at least one other mother in the blogging world - cause she certainly wants to know someone is listening. But in the true fashion of Bring Mommy the Vodka, don't forget to have a glass of wine next to your laptop while you do.